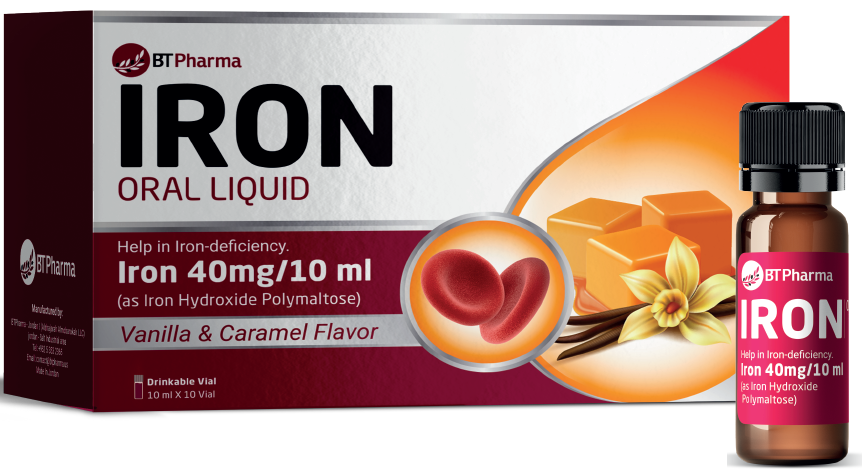 BTPharma Iron Oral Liquid (40 mg/ 10 ml)
Description:
A unique formula that contains 40 mg of Iron as (Iron Hydroxide Polymaltose).
This active ingredient is used in cases of iron deficiency.
Our product concentration/ strength covers the appropriate daily amount needed for human, which have a higher and faster proportional absorption, including a gentle touch on the stomach with a delicious vanilla and caramel flavor.
Why do we use BTPharma Iron Oral Liquid (40 mg/ 10 ml)?
Uses and Benefits of Iron:
•

Iron contributes to the normal cognitive development of children.
•

Helps replenish iron stores and increases hemoglobin levels in the body.
Symptoms of iron deficiency and anemia:
•

General fatigue, appearance of dark circles, pale skin, dizziness and headache, heart palpitations.
•

Hair loss, curvature, and weak nails.
Anemia affects most of the world's women and children suffer from it.
What is the correct dosage of BTPharma Iron Oral Liquid:
•

One vial per day, from 12 years of old and over.
Features of BTPharma Iron Oral Liquid (40 mg / 10 ml):
•

Ideal for those who dislike or have difficulty swallowing tablets.
•

Has a delicious, sweet Vanilla & Caramel Flavor.
•

Safe for adults & children from 12 years old and over.
Direction of Use:
•

Drink one vial daily.
Pack Size:
•

10 Vials / Box.